Home Page


News for 2013
Claires 6th show, working with Roger Hammond and Vincent Allen, the showcase is called the 3 Creatives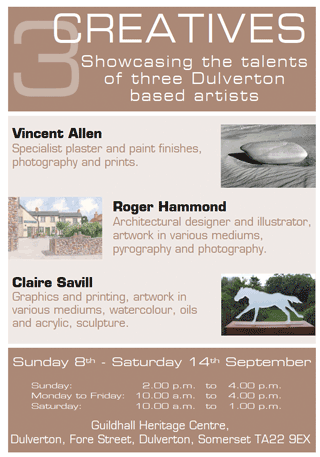 __________________________________
Here we go again - Claires 5th show called Claire Savill, an artist at work.
Claire has booked the Guildhall Heritage Centre exhibition hall from Monday 25th March 2013 to Saturday April 6th 2013 at the Guildhall Centre, Dulverton (above the library).. STOP PRESS. (Its opening a week earlier than originally advertised)
11am-2.00pm Sunday, 10am to 4pm Monday to Friday, Saturday 10am-2pm.
New work being shown, in oil, acrylic, watercolour and sculpture. Some good old fashoned landscapes and portraits and some new work which is contemporary with a twist. Claire will be working at the show so do pop in and take a look.
Some work by John Robins and Mary Jones will be included.
To view the catalogue please click here.

Landscapes and portraits in watercolour, oil and acrylic. Townscapes and seascapes, specialising in animal portraiture. Artist working from life and photographs.
Artist quality materials are used to create your unique portrait. Pet, horse and agricultural animal portraits, Exmoor ponies and more.
Art:
Contemporary, digital or traditional works. Please click on the gallery to view the animals, places and scenes and still life and floral pages.
For Graphics, Office and IT services.
News : November 2012
Exmoor Art Gallery just launched
Spread the News
Check out new website ExmoorArtGallery.co.uk
Free to artists and craftspeople on Exmoor to promote and showcase their work. Please check it out and pass on the news via Twitter and Facebook if you can. Lets get this ball rolling!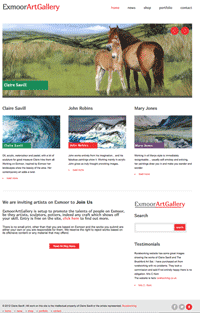 Follow @clairesavill1