Art: Still Life, Floral and Miscellaneous
Miscellaneous subjects and sculpture.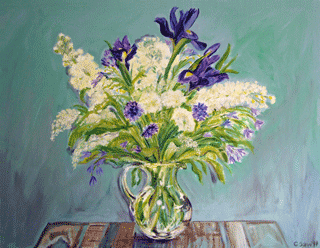 Iris in a Jug, Acrylic 39in w x 32 in d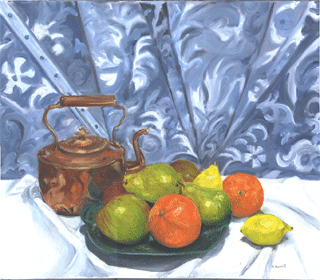 Oil. 60x50cm in Hazlenut frame. £195.00 plus delivery.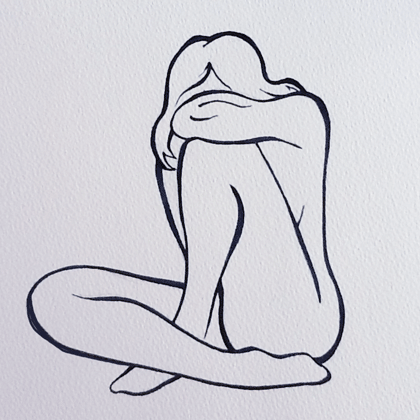 Blue Nude, Watercolour on paper. Image size
24cm x 24cm £55 in larger contemporary frame.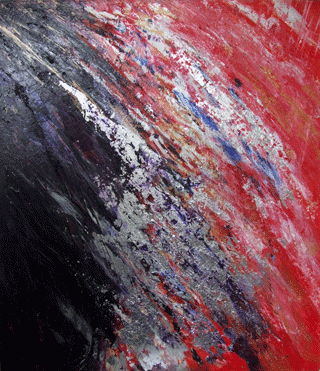 Clash, Acrylic on box canvas 24in w x 29 in h £195.00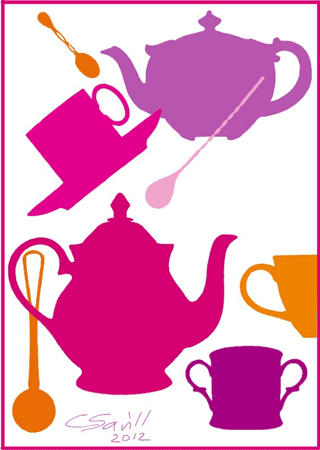 Teapots (tribute to Noel London), ipad digital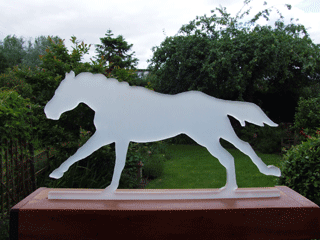 Freedom, acrylic moulded on solid wood plinth,
29cm h x 54cm w including plinth.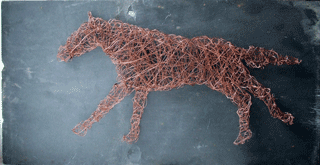 Freedom 1, Wire on Slate, 27cm h x 51 cm w.
Dulverton Railway Station model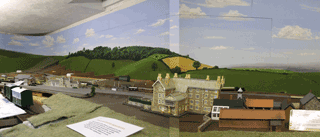 Painting the backdrop for the model of Dulverton railway station. The panels were painted in acrylic, mesuring in total 40ft x 5ft and took two weeks to complete.
For more information about how it was put together,
click here.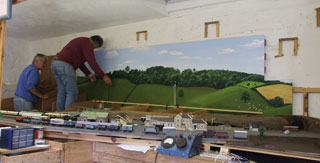 Chris Nelder and friend putting up the panels.
From one size to another... from painting the backdrop 45ft wide to figures 20mm tall...

The Exmoor Horn Exhibiton 2011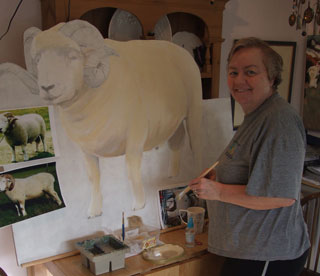 Painting Gordon (as named!) on the kitchen table.
A life sized piece, worked in acrylic on chipboard.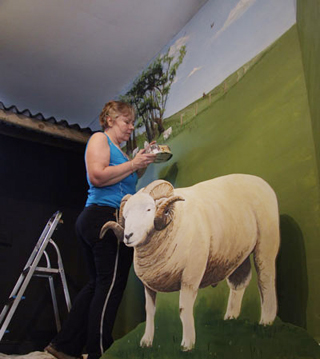 In spring 2011 I painted the backdrop for the
Exmoor Horn exhibition, held in the Guildhall Heritage Centre, Fore Street, Dulverton.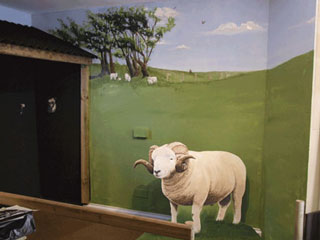 Gordon in situ, painted on chipboard and cutout, placed in front of the backdrop.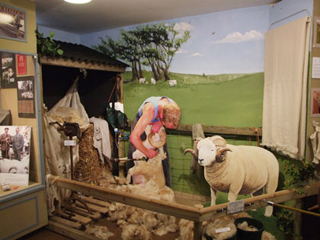 The exhibition opens April 2011. It will run for 2 years.
Cinderella Pantomime backdrop and cut outs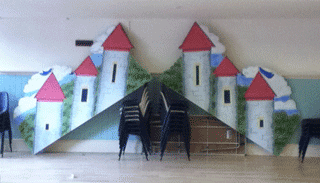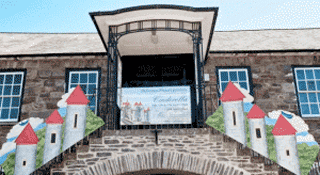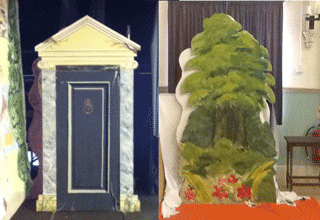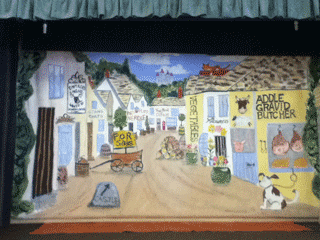 Cinderella pantomime backdrop painted in 2012,
5.5m w x 3.5 m h
Maelstrom Looming

Maelstrom Looming. Acrylic with chrome, silver and gold.
Box canvas, appx 92cm x 62cm.
Pink Gold



Acrylic. 30x30cm
Cool Nude
Acrylic. 45c x 62cm
Copper Kettle and Fruit

Oil. 60x50cm
Looking Down

Looking down. Acrylic with chrome, silver and gold.
Box canvas, 92cm x 62cm.
Noel London

Watercolour. Thank you to Linda London for kindly letting me paint Noel - a distinguished designer and artist
Daisy Fireworks

Acrylic. 36x24 in, box canvas £125.00 plus delivery.
Lemons

Oil. 51cm w x 61cm d x 2 cm deep edge
Apple Blossom

Oil 42 x 30 box canvas £85 plus delivery.
Daisy

Oil. 51cm w x 40.5cm d 3.8cm deep edge - box canvas. £85.00 plus delivery.

Nine Eleven

Collage, watercolur and ink, Nine Eleven, what America inherits,
Collage, mixed media 47 x 35. Not mounted, £75.00 plus delivery.
Magnolia

Acrylic on box canvas 51 x 41. The background is a very dark blue/green with a glossy slightly textured finish.
Blue Iris

Watercolour 50x38. Mounted. £85.00 plus delivery.
David Blue

David in Blue. Acrylic 41x31cm. Mounted £75.00 plus delivery.

David Red

David in Red. Acrylic 41x31cm Mounted £75.00 plus delivery.

Lupins

Watercolour
Lily

Watercolour 35x22 Not mounted £50.00 plus delivery.