Freebies
Contact Claire via the www.printingatthevicarage.co.uk contact page and get a free greeting card pack (6 small cards printed single sided with quality envelopes). You can use your own image, design or photo - the wording is up to you. Artwork included. Just say "I am claiming my freebie on the ruralworking freebie page" and leave your contact details.
Offer ends 30th November 2017. Offer is for one pack of cards per household.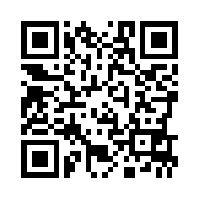 FAQ's and Freebies!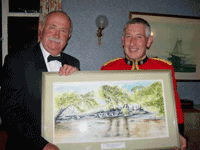 A retirement gift is accepted - thank you Mr Fulford for allowing use of this image.
How an image is produced
Peter Simmons commissioned this painting for a 21st birthday gift. He kindly allowed me to use his photos here. Thank you Peter.
Images supplied: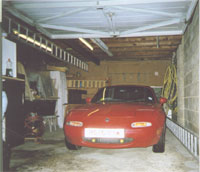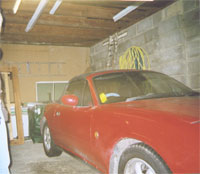 A rough will be drawn up (in this case three examples were created with photoshop):-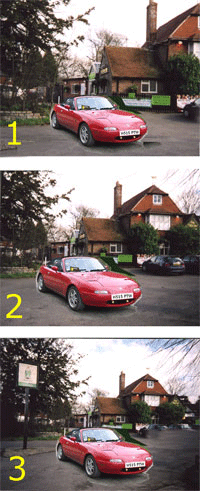 Copy of the drawing sent for approval: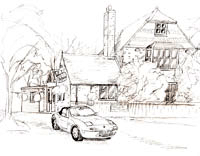 Changes are made then painting undertaken.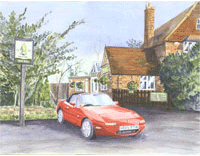 The finished painting

Once completed I can email you examples of how your painting will look when framed and mounted. Please ask (or see below).

Paintings usually look better when both mounted and framed. Cream with gold is usuallay a good bet. If considering a mount ask that it be cut with a slightly wider bottom edge, it improves the look of the image and stops it "dropping out" of the bottom of the frame.
When considering colours of the mount and frame it is a good idea to use some of the colours used in the painting itself.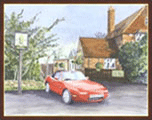 Frame only: - note how the image looks smaller than the mounted ones.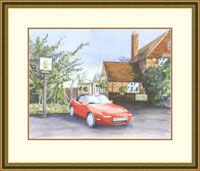 Frame 2
Ivory coloured mount with gold frame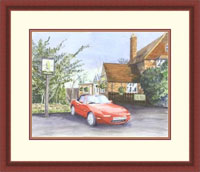 Frame 3
Cream coloured mount with mahogany effect wooden frame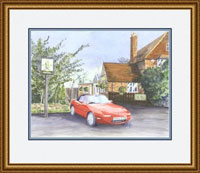 Frame 4
Pale grey coloured mount with wooden frame


Frame 5
Pale grey/blue coloured mount with grey/blue frame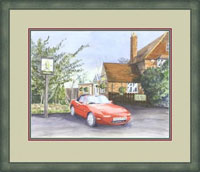 Frame 5
Pale green coloured mount with green frame


Here comes the small print regarding painting, graphics, vector images, printing etc. ....

How much will it cost for printing?
Printing quotes vary according to size, colour or black and white and quality of paper or card. We are very competative if you are considering print runs for leaflets or posters up to about 800-1,000. Our price list.

Its difficult to have a price list as such when considering a database or website. There are too many variables but a basic brochure type site would cost from about £75.00.

Paintings: The cost of printing will vary according to size, colour or black and white and quality of paper or card. We are very competative if you are considering print runs for leaflets or posters up to about 800-1,000. Our price list.

Do I have any obligation commissioning a piece of work?
No. If commissioning a painting you get to see it in its early stages, if you are happy we proceed. Once finished and you dont like it (though this has not yet happened) you are under no obligation to buy it. This does not apply to vector graphics. With vector graphics an image will be supplied as a rough, once approved the image is converted to vector and the clock starts ticking at the quoted rate per hou



Proof reading and payments

If we are discussing a commission/graphic/print job etc. we ask you check your roughs/proofs (samples can be supplied if required). Please check the work carefully especially if we are printing- it is the clients responsibility to spot any errors/typos etc.



Once painted, dawn up or printed we would ask for payment. Please pay upon delivery - unless otherwise agreed in writing.

No credit cards, sorry.
Do you charge for roughs?
How long do paintings/graphics take?
About 4 to 6 weeks for paintings, do check with us as this may vary. If its for a special occasion and you need it in a hurry we will see what we can do to oblige. Vector images/graphics are estimated time wise and client advised before proceeding.

Can you use my own images?
Yes, if the resolution is high enough for the job in hand.



Can I use more than one photo?
Of course, you can use as many images as you wish. A composite can be made from the images.



How do I get good quality photos?
Generaly, the higher the "megapixels" your camera - the higher resolution. the amount of light and camera settings make a difference also. if in doubt, ramp up the resolution. Images should ideally be at least 200k in size to give some detail. If the images are to be used for print 300 dpi is adequate.



How do I make copies of photos?
You can email them directly or, if they are a conventional printed photo you will need access to a flatbed scanner. Scanners are shipped with a lot of home computer sysems or you may find your friends have one, or there is one at your local learning centre or library.



My photos are pixelated or of low quality
Increase the image size setting on your camera. To get a really good photo you need an image that more than fills your screen. it is possible to increase the resolution here but the higher the original quality the better

.

Who owns the image?
The painting/drawing/graphic image etc. is yours upon payment. The copyright belongs to Claire Savill unless otherwise agreed in writing.



Can I use a photographers image without their permission?
No. It is best to check with the photographer regarding how the image can be used. There are websites where you can find images to use, check the description with the image on how it can be used. Most ask for permission of the photographer if its for commercial use.